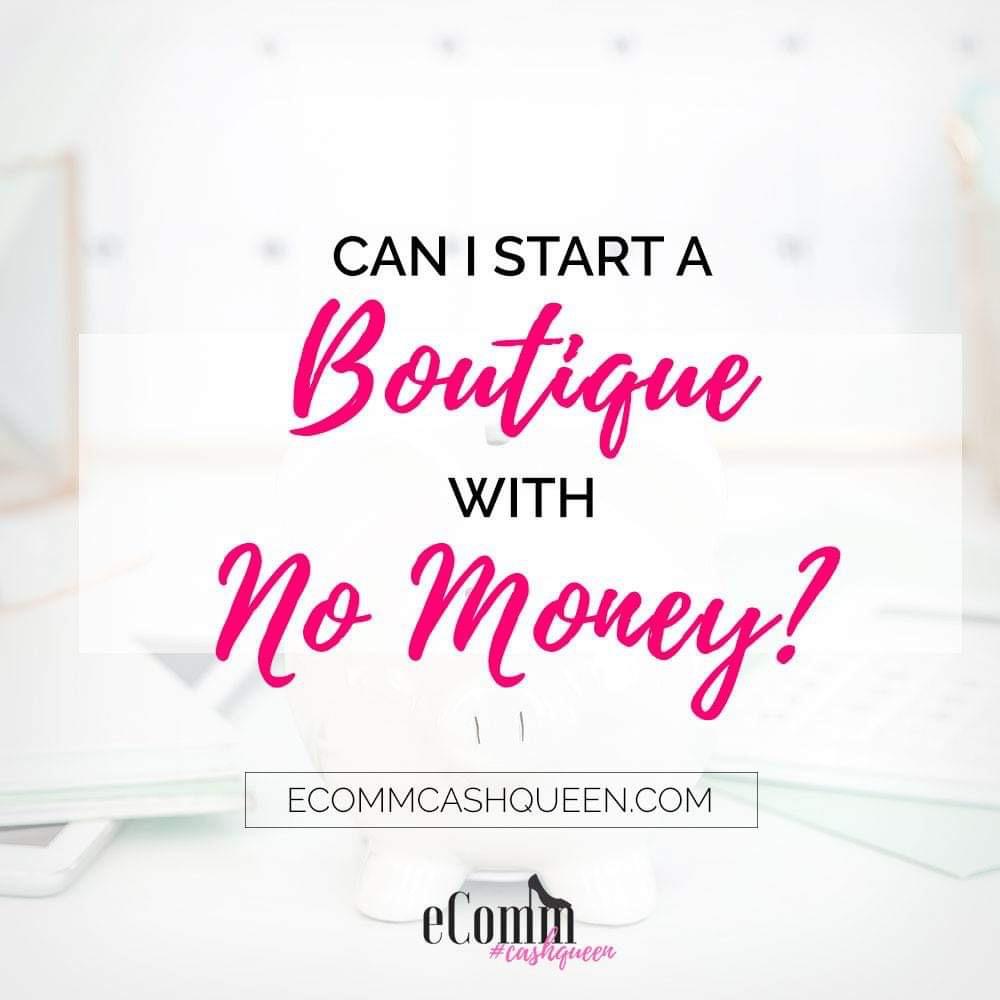 Is it possible to start your online boutique with absolutely no money? It sure is. Most women have a true love for fashion. They love to dress on trend and keep up with the latest styles. They are in love with all things fashion jewelry, shoes, accessories and so much more.
Imagine being able to run a fashion boutique from your own home with hardly any risk at all… Sound too good to be true?
Let's explore this.
Is starting your online boutique possible with no money down?
The short answer: Absolutely, yes.
There are plenty of very successful boutiques online who began selling to their audiences with nothing but a simple idea.
It's very possible to get your boutique up and running with no online storefront.
There is one thing you will need to begin building and that's an audience.
Not one single person, store, business man/women will be able to sell products online without people. So it's important to go where the people are and began studying and building a passionate audience of buyers.
You may be asking: "Coach D, how do I build this passionate audience of buyers? How do I begin selling without an audience?"
Here are some steps you can take to start your online boutique with no money down:
Step 1: Build Your Audience
A great way to begin doing this without an official online store is by choosing a social media platform where your audience hangs out.
Do some market research on your audience to get a feel for what they love and begin posting content that your audience will respond best to. As you begin offering this type of valuable content to your audience your numbers will begin to grow and you can begin introducing some of your products to them and taking pre-orders.
Once you receive these pre-orders from customers, you would collect the money, purchase the products and have them dropshipped directly to customers.
Step 2: Pick a platform
In step 1, we discussed selling without an online store and taking pre-orders on social media. If you would much rather have an online storefront with no money down, here is an additional option to consider:
Another great option for starting your boutique is marketplace selling. There are multiple apps that allow you to sell items directly from your mobile phone such as LetGo, the Facebook marketplace and eBay.
Many of these platforms allow you to get started for completely free and do not deduct seller fees until your item sells.
It's a win-win for the newbie boutique owner because they don't have to worry about building an audience right away as they can tap into the audience that is readily available to them through the marketplace.
Step 3: What will you sell?
The next question when starting your own online boutique is: What will you sell?
Will you have a general store? Or will you niche down and sell specific products?
If you will niche down, what type of products will you niche down and sell?
It's a good idea to make this decision early on.
Most of my students find it much easier to niche down. The reason for this is because once you've identified your audience, it's easier to offer them a specific product that they truly want and need. This helps you to get more targeted. Especially in the future as you begin launching marketing campaigns.
Step 4: Who are your suppliers?
The next step you'll need to take will be finding your suppliers. It's important to build solid relationships with those who will supply these items for you. Will you order the products and ship them from your location? Or will you ask suppliers to dropship these items directly to your customers?
Both options are available to you and there are plenty of suppliers that can assist you with this part of your business.
It's important to do some research for reliable suppliers to work with. You can do this research on your own or get more information and a list of suppliers inside of the Profit Freedom Tribe Academy. Inside of this online academy, we prepare students to create a full-time living online using strategies such as: eComm, affiliate marketing and so much more. Find more information about becoming a #Freedom Triber HERE
Step 5: What's Your Marketing Plan?
Now that you've sorted out all above. It's time to develop an aggressive marketing plan to create more awareness and buzz about your products. Remember, this is all a testing phase. You're testing your audience's reactions to different types of products and measuring their demand for them.
Now you have the answer. Is it possible to start your online boutique with absolutely no money? It sure is. Although I suggest you come into any business with at least some startup funds, it's not absolutely necessary. There are plenty of entrepreneurs that started businesses with no money at all.
Ready for the next steps? Ready for guidance along your boutique journey?
Here are some resources to help you get started:
Be sure to join the FREE eComm Facebook group to claim 3 free trainings about online selling strategies HERE
If you're serious about leveling up online and ready to start selling today, become a #FreedomTriber HERE
Need a private coaching session to discuss a marketing strategy for your boutique? Book a private coaching session with me HERE
Thanks for reading and I'd love to hear from you below in the comments.'
Blessings!