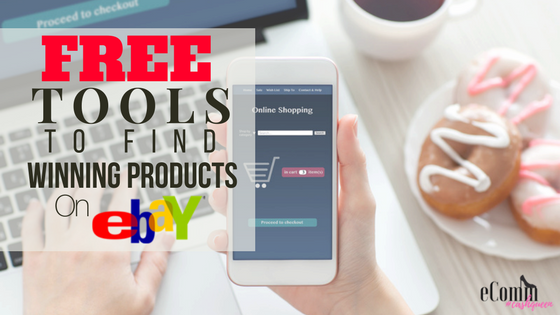 At one time, Watchcount was my go-to tool for finding winning products to sell on Amazon & eBay. This year, I realized that the tool was no longer in working condition. No longer being able to use this tool slowed down my productivity with sourcing eBay products quite a bit. I know some of you share in my pain. It's quite frustrating when you realize that a major tool in your business is no longer working efficiently. Good news! After doing some searching, I found some other free tools that actually run circles around Watchcount and I'm loving the results I'm getting. I want to share with you my Top 3 Go-to eBay research tools to find winning products to dropship on eBay. Are you ready? Buckle your seatbelts! Let's go get into it.
Tool #1:  
https://explore.ebay.com – I'm actually mad at myself for not discovering this sooner. Sometimes we get so caught up in what's going wrong that we fail to look right under our nose for the solution. This gym is similar to Watchcount, but better. The tool can be found directly on ebay.com. Can you believe it? It's right on the very site where we sell and source products!
3 awesome features this tool offers:
Explore – discover what's trending by searching the eBay explore tool. Scroll down and uncover items you never imagined would be trending on eBay or type in keywords and search that way.
What's it Worth? – Type in an item or keyword and find out the price it's been selling for on eBay. This tool will help you get ideas for pricing items
Best Sellers – Find hot selling items on eBay by keyword research or by scrolling down and discovering what's selling within multiple categories. This tool is so much more efficient that Watchcount. You'll love me for this:)
Tool #2: 
https://app.shelftrend.com – This tool is a hidden gym. If you're seeking other eBay dropshippers who are selling well on the platform, ShelfTrend is a great way to locate these sellers and do some research. Simply create an account, enter your keywords and run your report. ShelfTrend will run a Top 500 report as well as a report for data from the last 7 days.
As you can see pictured below, the tool gives a wide range of information regarding the item keyword you type into the search. Shelf Trend will provide seller ID information, how many sold, how much revenue made as well as brand information. ShelfTrend also has a paid plan but gives just enough information here for free to continue research for hot-sellers on eBay.
Tool #3:
http://www.what-to-sell.com/ – This has become one of my absolute favorites as it provides massive information for completely free. There are also paid plans available for other eBay marketplaces, but for eBay US the tool is free. Simply click the Discover Button, and discover a breakdown of categories of best-selling items. Narrow categories down by clicking through or type in a keyword into the search and the tool will display the percentage of items sold within the categories, a list of top-sellers and seller ideas of those items. What more can you ask for? See pictures below.
Check out my vid below and watch as I give a LIVE walkthrough demonstrating how to use all three tools:
I'd love for you to try these tools out and I'm pretty sure you won't miss Watchcount for a second. Give them a try and let me know what you think in comments below! Feel free to also post your questions.
I invite you to give my FREE eComm Facebook Mastermind a Join HERE.
Ready for the next step? Want to learn how to sell on eBay. Grab my course HERE.
Until next time,