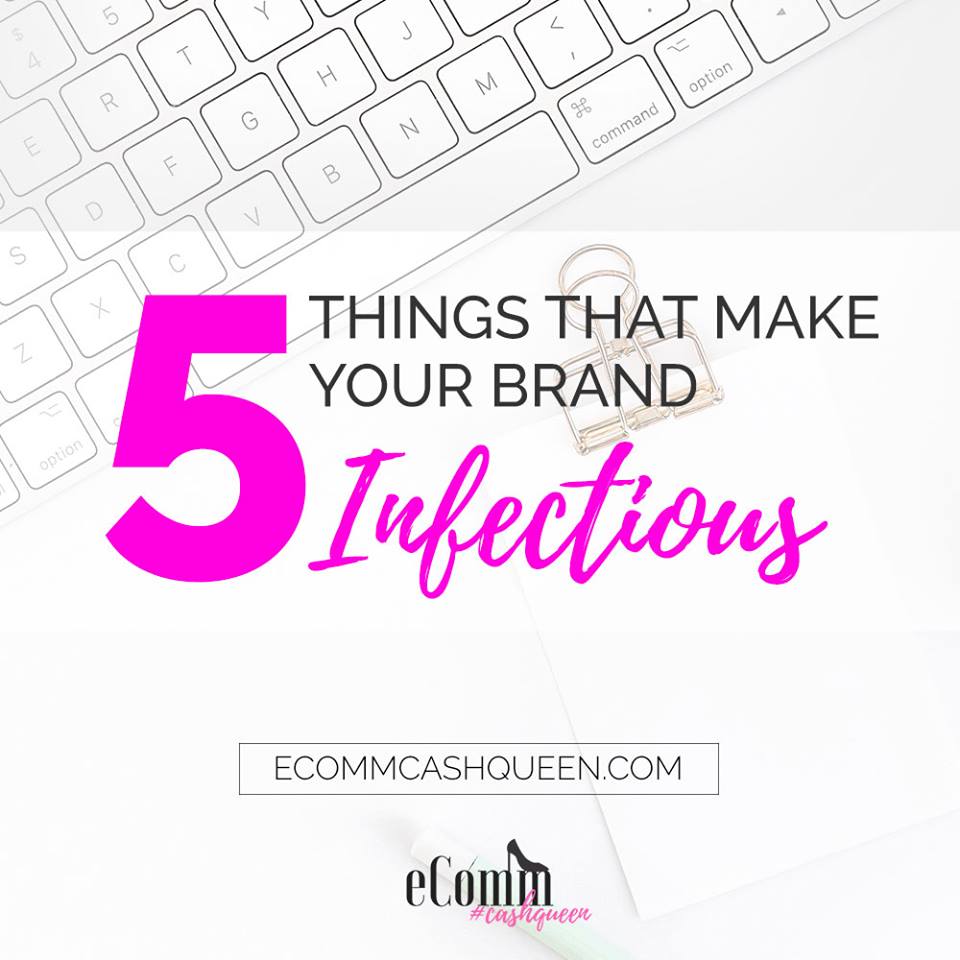 Ever wondered what makes certain brands tick? You know, those brands that everyone can't seem to get enough of? Those big BOSS brands that people just love to follow and take out their credit cards for…

Ever wondered what it would take for you to have a BIG BOSS Brand?

It's not impossible to have a brand that people rave over and love to buy from! Let's explore some of the things that make your brand infectious.

1. Your Story – It's important that you tell your story. If someone told you that no one wants to hear your story, they lied. It's time that you start telling stories and sharing your own personal experience. WHY? Because this creates a personal feel and allows your audience to relate to you. Too many people dehumanize their brands and if you ask me, that's super boring (can I get a pillow…). Anyone can teach marketing or branding… Hell! Anyone can teach eCommerce. But one of the main things that make my brand TICK is my ability to tell stories over and over again. Remember, stories DO sell.

2. Your Messaging – For better words: What are you saying? Your message is super important. So let's explore exactly what your message is in this digital space. Ask yourself, if I could say one thing to change someone's life and/or business, what would that one thing be? Try to wrap your message up in one single sentence. Now evaluate if this message bleeds through into your branding. If not, time to tweak it a bit!

3. The Value – What are your sharing? Is the content hot or not? Because that's what really makes these brands POP, right? They are following who's hot. So if your content doesn't sizzle, why should they take time out of their busy schedules to follow you? Lot's to ponder on.
4. Your Impact – What long lasting effect are you leaving behind. Will you be remembered? Will you pop into someone's mind when they think of your industry. Be sure to be intentionally and impactful in all that you do when spreading the word about your brand.
5. Consistency – Remain consistent across the board. How often are you showing up? Are you consistent with the look and feel of your brand (not most important)?
p.s. Good logo, images and great colors alone won't result in sales.
Check out the video below and don't forget to like, share subscribe:
Which are above do you need to work on most? How can you show up and be more impactful in your branding? Drop a comment below. We'd love to hear from you.
Sign up for the FREE Amazon Sellers Workshop HERE
Want more tips like this? We'd love it if you'd join us in our exclusive free Facebook group HERE
Feel free to pin, share and stash this free Infographic:
Blessings,