We've just cracked open 2020 and this is the year to get more targeted and build authentic connections in our businesses.
This month, we're focusing on list building.
Why?
Because it's way too many business owners out there pouring so much effort into marketing and feeling disappointed when they realize they're putting the wrong content in front of the right people.
Now's the time to get more targeted. Let's talk about some Email List Building Tips that will help you to build a super targeted email list: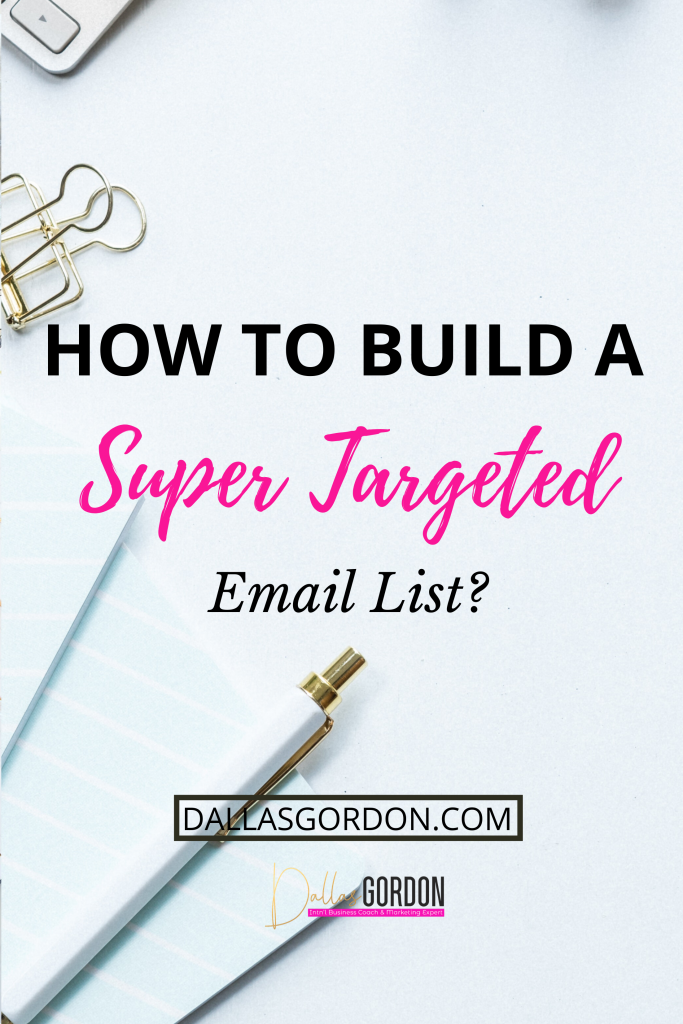 1. Determine who your content is for – When creating your lead magnet or developing your lead generation plan, it's important to realize that your content won't be for everyone. Determine upfront what type of content your ideal client would drool over. Yes, you want it to be that good.
2. Make sure your content is easy to download and digest – I see too many entrepreneurs making the mistake of not testing the content that they put on the internet. Whether you've created a PDF guide, audio or video training, be sure to download it yourself and test your process. Ask yourself: are there any issues with downloading this content? Any snags? Is it easy to digest? Many times, your ideal client wants to digest your content quickly on the go and get a quick win. If they can do that with your paid stuff, imagine what they could do with the free.
3. Put yourselves in the shoes of your ideal client – Remember, you're creating content that attracts for them. It's super important that you create content that they will find valuable. There must be a value exchange when they exchange contact information with you.
We'll be digging much deeper into this topic during the 3 Day Lead Magnet Attraction happening on January 27, 2020. If you're reading this before then you can join and get this course (valued at $197) free.
Sign up for the bootcamp HERE
4. Be careful to use language that attracts your ideal client – If you're wanting to attract high-ticket coaches, you may not want to create content that would be good for beginner coaches. You'll want to be sure you're creating content that the coaches you're looking for would find valuable. I learned this the hard way early on.
5. A lead magnet isn't just a lead magnet – In my early stages as an entrepreneur, I was told to just create something. It's not about just creating any ole something. It needs to be relevant, valuable and it needs to be good. I'd say, more than good.
Remember: if someone can get a quick win with your free content, they'll experience just how great you are and eventually want to move up to your paid content.
Don't forget to sign up for our Lead Magnet Attraction Bootcamp happening on January 27th HERE
Grab our List Building Bundle and learn all about list building steps, tools, capture page creation, templates, guides and more HERE
Blessings,