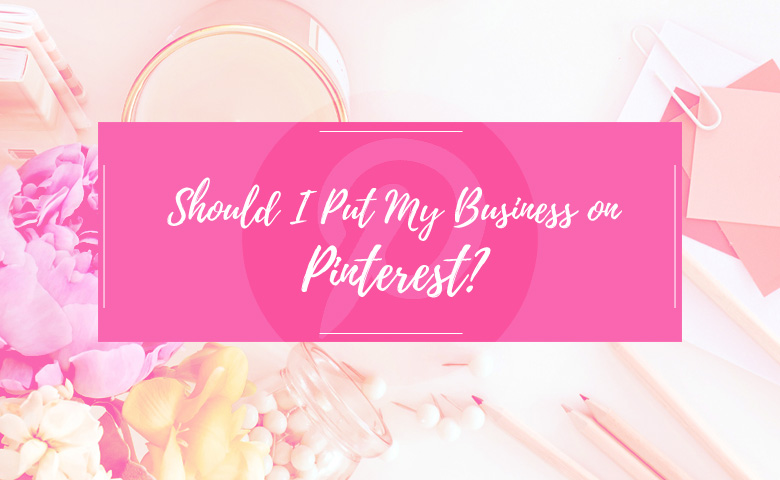 So you have a business and you're looking for free ways to market online but you don't want to waste time, energy or wreck your brain as you've done in the past? You've landed here because you're wondering if you should put your business on Pinterest. Yes, you've seen all the statistics about Pinterest. You've heard all the hype about how Pinterеst is great for business owners but you really want to know the low down dirty truth about Pinterest.
No worries, I'm here to give you the scoop on Pinterеst and uncover the reasons why you should put your business on the site.
Pinterest is the place to be
Pinterest is simply, the place to be for business owners no matter the industry. Although the audience consists of mainly women who love baking and fashion, a variety of businesses are thriving and doing it BIG on Pinterest. There are billions of people on the platform. And anywhere there are that many people in one place, there's always a need and demand for them to buy. The question is: how will you get them to stop on your images and click through to your website.
Tip: Search for 3 businesses similar to yours that are doing well on Pintеrest. Check out their pins and content strategy. Observe how followers are reacting to pins and which pins they are repining the most. Then scratch out the doubts one by one off your list (wink).
I always encourage my clients not to reinvent the wheel. The data is always at your fingertips if you just dare to take a look. There is plenty of business similar to yours on the platform for you to study and get inspiration for your Pinterest strategy.
Pinterest has packaged many wonderful tools for business and they're absolutely FREE!
Did you know? That creating a business account on Pinterest is much easier than you thought. And will you believe, it's absolutely FREE? Pintеrest has packaged tools for business owners to succeed. Tools such as analytics, rich pins and so much more. It's a huge setup for success.
Pinterest has more ready-to-buy users than other social platforms (although, Pinterеst really isn't considered a social platform). Over 80% of pinners actually purchase the products they're interested in. People visit Pinterest to search for and share ideas; interests. Businesses utilize Pinterеst to share items that pinners might be interested in purchasing.
It's a win-win for both the business owner and the Pinterest user. Both have what the other is seeking and it's a perfect match!
As with any other platform, businesses owners just must learn to properly position themselves to be more attractive on the platform.
In our Pinterest Traffic Mastery Course, students are taught beginner to advanced strategies for increasing traffic from Pinterest to their offers as well as highly targeted strategies for increasing interest in pins shared on the platform.
Pinterest can be used for different types of online businesses. I've personally had great success with Pinterеst for online stores and for my coaching business. While different strategies apply to both industries, the results are the same: millions of views per month on boards and thousands of clicks to websites.
More Repins = More Sales
More traffic means more potential buyers. The more product views, the greater the potential becomes to sell your products and services. In the wonderful world of Pinterest, more repins = more visits to the site, which offers a very great opportunity for increased sales.
The recipe for Pinterest success:
Highly optimized business profile
Start by upgrading or creating a business account on Pinterest. Completely fill out all information and options available in settings. Sprinkle some keywords throughout your title and profile to help people find your business on the platform.
Eye-stimulating images
Pin attractive images to your Pinterest boards and group boards. Ask yourself: "What would make my potential customer stop scrolling?"
Pin Valuable Information
Be sure to pin valuable pins that encourage re-sharing. If you're providing the right information to the right people, they are more apt to click through the pin in order to get more information from your website.
I'm repeating this again because can't say it enough. Study competitors or highly successful businesses similar to your own on Pinterest and observe their pinning strategy. Analyze what's working and what isn't getting much engagement. Apply some of those strategies (in your own way of course) to your own business.
Pin Consistently
In order to gain momentum and traffic from Pinterеst, stay active. Pinterеst won't send as much traffic to users who aren't active on the platform. Pin consistently throughout the week and develop a schedule. Read analytics to find which times are best to share your pins.
So are you ready to take the leap? If your business isn't on Pintеrest yet, what's holding you back? Feel free to let me know your thoughts in the comments.
Ready for the next level? Sign up for the Pinterеst Traffic Class HERE.
or
Get the course, monthly group coaching and more by becoming a #FreedomTriber HERE.
Happy Pinning!