Top 20 Game-Changing Tools for Your Subscription Box Business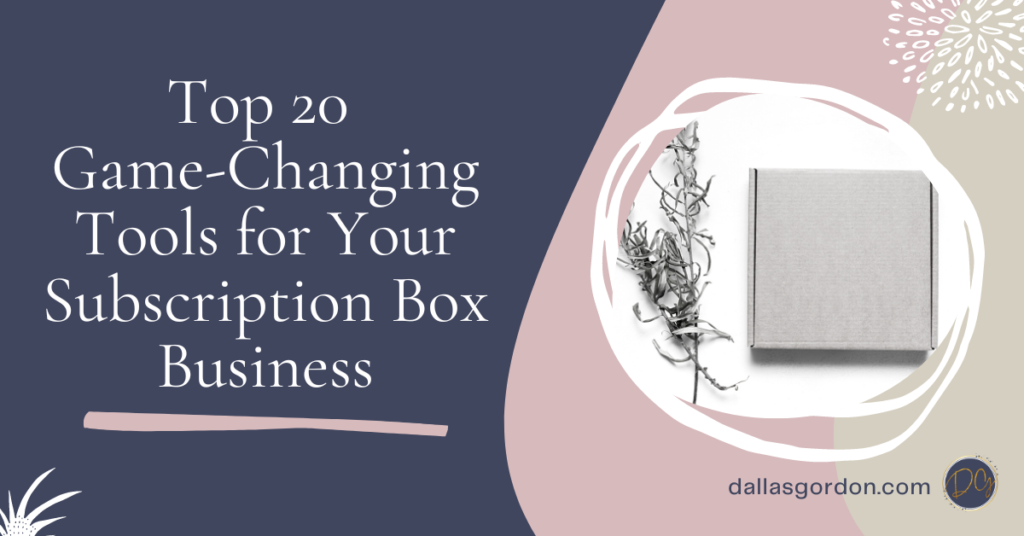 Are you running a subscription box business and looking for ways to take it to the next level? Here are the top 20 game-changing tools and resources to help you run your business more efficiently and effectively:
1. Coaching
A subscription box coach can help you avoid common mistakes that many business owners make and provide you with the knowledge you need to succeed.
A coach can help you take your business from beginner level to scaling and growing it. A coach can provide you with tips, information, and guidance on your business. There are many different coaching programs out there, and it's important to find the one that's right for you. I highly recommend Subscription Box Experts. My mentor has successfully built a multi-million dollar subscription box business and can offer valuable insights and knowledge on advertising, marketing, and growing your own subscription box business. See my mentor's Sub Box Course HERE
2. Canva 
The second tool that you should consider is Canva. Canva is a graphic design platform that can help you create eye-catching and attractive images for your subscription box business. Canva is perfect for those who aren't skilled with design programs such as Photoshop.
Canva is an excellent tool for organizing and saving files, scheduling content, and creating beautiful designs for your subscription box business.
If you aren't skilled with Canva, I have quite a few Canva tutorials on my channel HERE. Canva also has a great knowledge base and tutorials as well. Get started with Canva HERE
3. Subbly
Subbly is an all-in-one subscription box platform that can help you manage your subscription products and services, take payments, market your offering and keep your business organized. Your subscribers are guaranteed a great experience too — Subbly makes it easy for them to sign up, manage their subscriptions, and make payments.
Subbly is the ideal choice for those who want to scale and grow their subscription box business. From a no-code website builder to powerful automation, inventory tracking, and more, Subbly's plugin-free experience provides you with the tools you need to run your business more efficiently and effectively, allowing you to really focus on growth and retention. Get your sub box started with Subbly HERE
4. Publishing Tools
Facebook and Instagram have their own publishing tools. You can schedule reels, stories, and posts between Facebook and Instagram for completely free.
5. ULINE
ULINE is a great place to purchase your supplies. They have everything you need, from containers to mailers and boxes in many sizes. They ship fast, and they have an amazing net 30 program if you're looking for credit terms. However, shipping can be a bit expensive, so keep that in mind.
6. Sticker Mule
Sticker Mule has a design team that is willing to help you with any of your design needs. They offer stickers, printed mailers, branded tape, and more. The prices are pretty good too. Get a $10 StickerMule Credit HERE
7. Budget Sheet
I recommend creating a subscription box budget sheet. You can use resources such as Cratejoy to create a spreadsheet that helps you calculate fees, supplies, advertising costs, and other expenses. It is important to know how much you are spending and how much profit you are making from your subscription box business.
8. ShipStation
Shipstation is an order management system that helps you streamline your shipping process. It provides you with the ability to manage orders from multiple sales channels in one place, automatically import orders and print shipping labels.
9. Trello
Trello is a project management tool that is a favorite among business owners. It allows you to organize your box ideas and communicate with your team in an organized way. You can create different cards and tag your team, which makes it easier to keep track of tasks and deadlines. Get started with Trello HERE
10. Pinterest
Pinterest is a completely free platform that can be used to market your subscription box. It is a great way to bring traffic to your website by pinning your blogs and other content. You can also use Pinterest to create private boards to organize your box ideas and keep a catalog of all your ideas.
11. Amazon for Business
Amazon for Business is a great resource that is often overlooked. You can create a business account that provides access to wholesale pricing and bulk discounts. It is a great way to do business with other businesses and negotiate discounts on items.
12. Google Sheets
Google Sheets is a tool that can help you stay organized and keep track of tasks, deadlines, and budgets. It is a great way to keep a spreadsheet of your budget, expenses, and profits. You can also use Google Sheets to keep track of influencers you are working with, team members, and any missing items from your boxes.
13. Packlane
Packlane is a supplier that can print on your boxes, making it a crucial partner for a subscription box business. Using printed boxes is a great way to enhance your brand image, and Packlane provides reliable printing services to ensure your boxes are of high quality. By working with Packlane, you can customize your boxes with your logo or design to make them unique and stand out from competitors.
14. Smartphone
Leverage the power of your smartphone to create and share compelling content. Build a strong online presence and grow your subscription box business. By regularly sharing high-quality photos and videos of your products and your team at work, you can build excitement and anticipation for your boxes and encourage more people to subscribe.
15. Mailerlite
MailerLite is an excellent email marketing platform that allows you to send email campaigns. With MailerLite you can also create customizable opt-in forms that can be embedded on your website, social media pages, and landing pages. MailerLite offers powerful automation features that can help you save time and improve your marketing efforts. Another benefit is that MailerLite provides you with detailed analytics. Check out MailerLite HERE
16. Zendesk
Zendesk can integrate all communication channels (email, phone, chat, social media) in one place, making it easier for the business to manage customer queries and concerns efficiently.
17. PirateShip
PirateShip is a shipping platform that offers discounted rates for shipping services such as USPS and UPS. As a subscription box business, shipping seamlessly is a crucial and PirateShip can help with that process.
18. Chart Mogul
Chart Mogul is a powerful subscription analytics platform that can help you track and analyze your subscription box business metrics. It can provide you with valuable insights into customer behavior, churn rates, revenue growth, and more.
19. Kingsummo
KingSumo is a platform that allows businesses to create viral giveaways and contests to increase their email list and customer engagement. By running giveaways and contests, you can create excitement and buzz around your subscription boxes.
20. Slicktext
Slicktext can help your subscription box business by providing a powerful SMS marketing platform to help you communicate with your subscribers. With Slicktext, you can create and send targeted SMS campaigns to your subscribers, such as promotional offers, new product announcements, and order confirmations. Get started with Slicktext HERE
Starting a subscription box business requires hard work and dedication, but with the right tools, it can be a rewarding and profitable venture. Make sure to use these tools to stay organized, manage your finances, and market your business effectively.
If you'd like to learn more about the top game-changing tools for your subscription box business, I invite you to watch my full video here:
Plus, don't forget to download my free guide: No Hustle Strategies for Purpose-Driven Entrepreneurs. It's packed with insights on how to market your business with ease while honoring your natural gifts.
.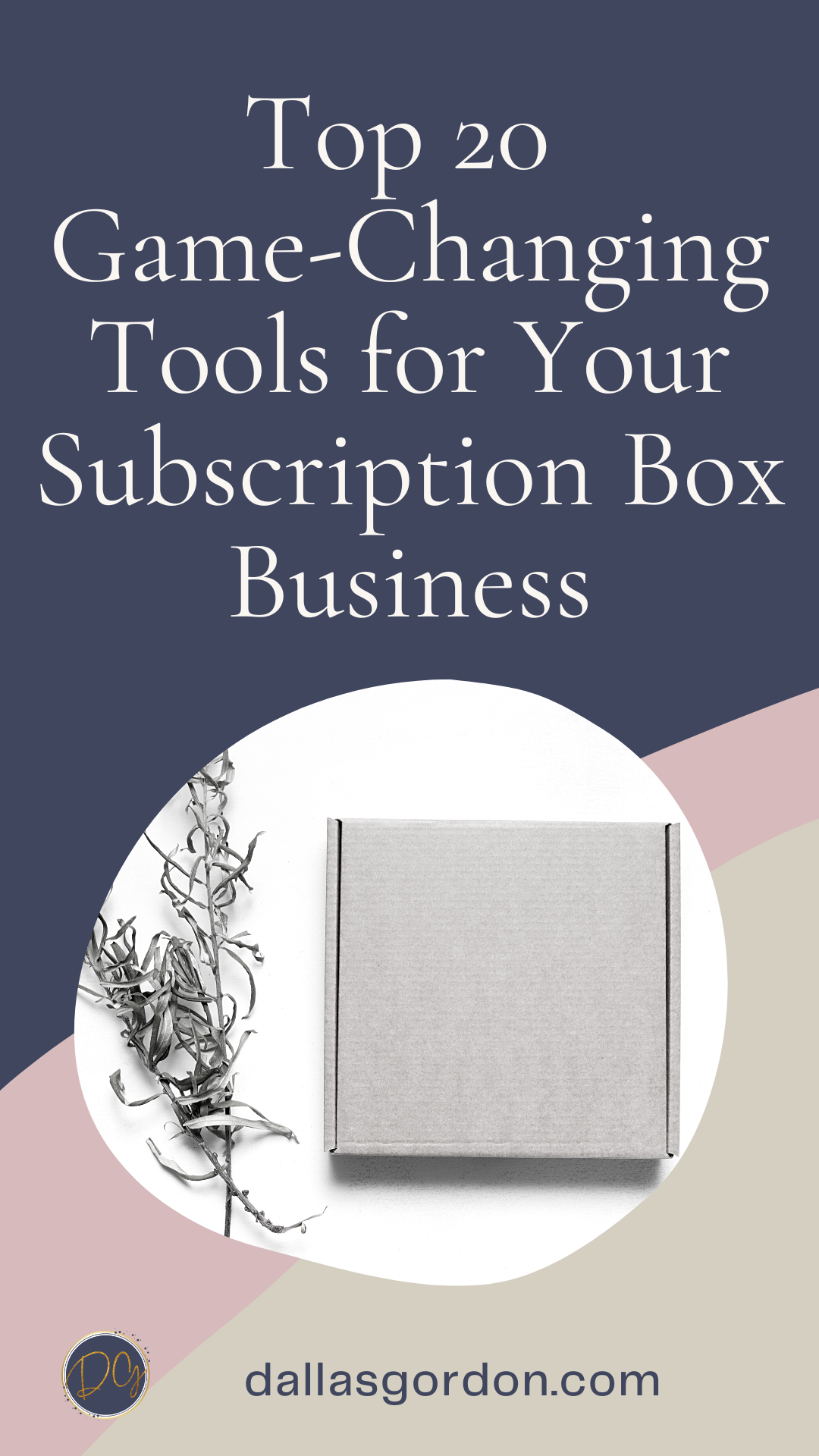 ---