Best Place to Host Successful Webinars & Virtual Events – Kaltura Review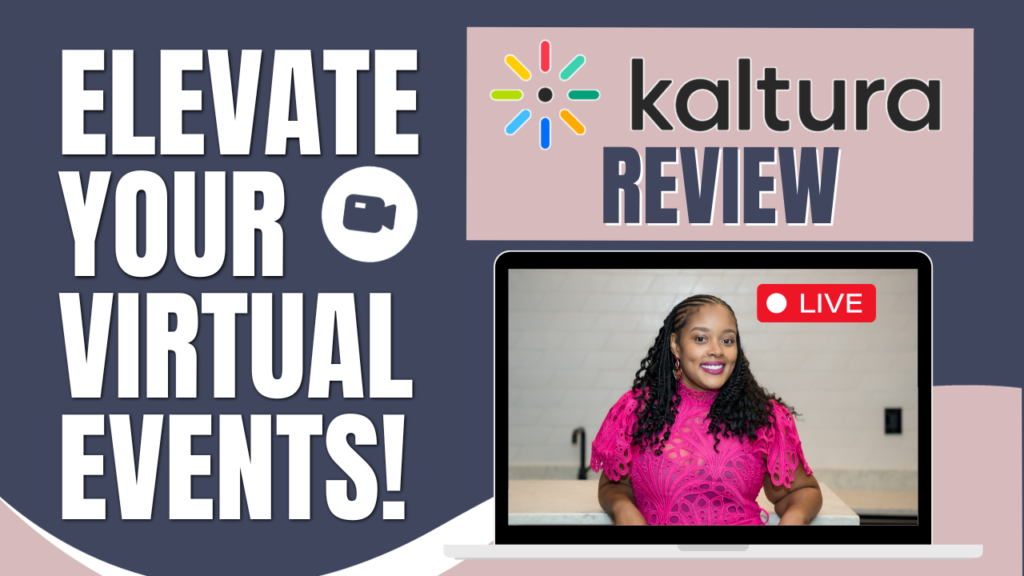 Hosting virtual events has become a new normal in our professional and personal lives. Whether it's webinars, conferences, or interactive workshops, the need for a reliable and feature-rich virtual event platform is crucial. Recently, I shared my video review on a platform that's making waves in the industry: Kaltura. If you're new to Kaltura or haven't heard about its capabilities, you're in for a real treat. In this blog post, we'll take a deeper look at Kaltura and explore many of the features that can take your virtual events to the next level.
Kaltura is an all-in-one video platform. It offers a wide range of solutions, making it a versatile choice for different businesses. From webinars to virtual events, communication and collaboration tools to video content management, Kaltura has it all. 
Here are some of Kaltura's key features:
Communication and Collaboration:

Kaltura supports meetings, webinars, town halls, and video pools, making it suitable for various types of gatherings.

Video Content Management:

This feature covers everything from video creation and transcoding to content management, publishing, analytics, and security.

Virtual Events:

Kaltura provides a comprehensive virtual event platform for hosting online conferences and community portals.

Media and Telecom:

It offers solutions for education, including virtual classrooms, lecture capture, and campus portals.

Developer Platform:

Kaltura even has a developer platform for those who want to create custom solutions.
Although Kaltura has a variety of video solutions, for this review I'll be focusing on its webinar capabilities.
Flexible Pricing Options
One of the standout features of Kaltura is its flexible pricing model. Unlike some platforms that force you to pay for features you don't need, Kaltura allows you to customize your plan to suit your specific needs. This flexibility ensures you're only paying for what you use.
Kaltura offers various plans, including a free trial to get you started. 
Here's a brief overview of the pricing options:
Business Plan (Billed Annually): $150 per month
Business Plan (Billed Monthly): $199 per month
Business Elite & Enterprise Plans: Custom pricing
Yearly plans are also offered.
With a variety of plans available, you can choose the one that best fits your needs and budget. This level of customization is a significant advantage, especially for businesses of all sizes.
Creating Your Webinar with Kaltura
Now that we've covered some of Kaltura's capabilities and pricing structure, let's dive into how you can create a webinar using the platform. Kaltura's user-friendly interface makes setting up a webinar a breeze. 
Here's an overview of how to create your webinar:
Step 1: Event Setup
When you log in to Kaltura, you'll be greeted with a helpful guide that walks you through the steps to create your first webinar. This guide simplifies the process, ensuring you don't miss any critical details.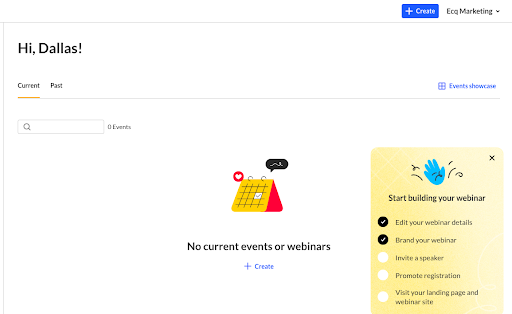 Step 2: Define Your Webinar
Start by defining your webinar topic and description. Kaltura even provides an AI assistant that can generate title and description suggestions based on a few words you provide. This feature helps you craft engaging and professional-sounding webinar titles and descriptions effortlessly.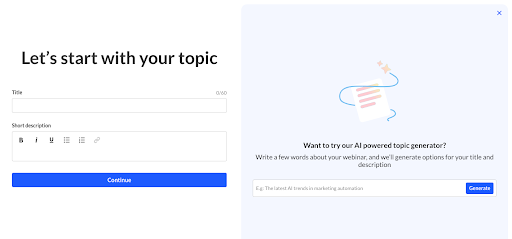 Step 3: Set the Date and Time
Choose the date and time for your webinar. Kaltura's platform also offers AI assistance which suggests presentation outlines to help you structure your webinar based on its duration, making it easier for you to plan your content effectively.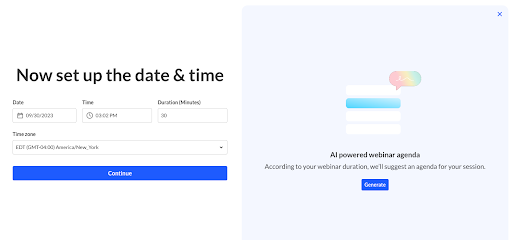 Step 4: Customize Your Branding
Ensure your webinar aligns with your branding by customizing the logo, banner, and theme. This allows you to maintain a consistent and professional look throughout your event.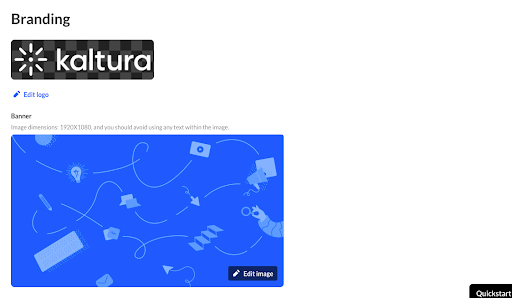 Step 5: Registration and Speaker Details
Set up the registration form for your attendees, collecting essential information. Add speakers to your webinar, complete with their names, titles, images, and bios. Kaltura makes it simple to invite speakers to your event.
–
Additional noteworthy features:
Manage recordings and media
Kaltura automatically stores recordings and media related to your webinar, streamlining the process for you. This feature ensures you have easy access to your content for future reference or sharing.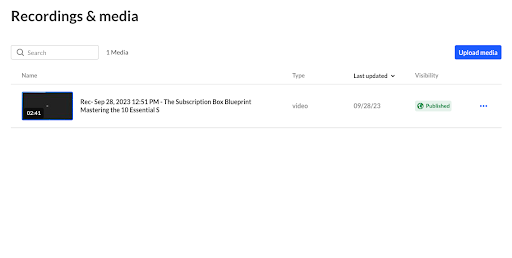 In-Depth Analytics
Kaltura's analytics provide invaluable insights into your webinar's performance. You can review registration data, attendance rates, engagement levels, chat transcripts, and more. This data-driven approach helps you identify areas for improvement and refine your future webinars.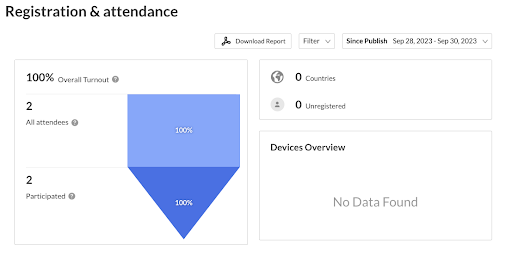 Live Webinar Experience
Once you've set up your webinar, you can enter the live webinar room. Kaltura provides a user-friendly interface where you can share your screen, interact with attendees, and access various engagement features. Features like polls, ratings, and chat options enhance the overall webinar experience, keeping your audience engaged and informed.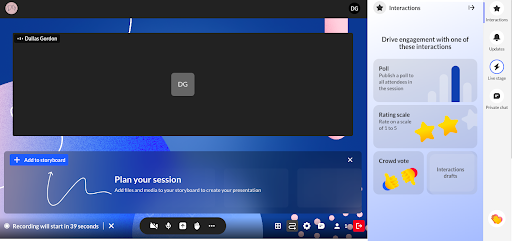 Event Showcase Page
One unique feature offered by Kaltura is the Event Showcase Page. This page automatically showcases your past and upcoming events, allowing attendees to access recorded webinars on-demand. You can even embed this page on your website, providing a convenient hub for your audience to access your content.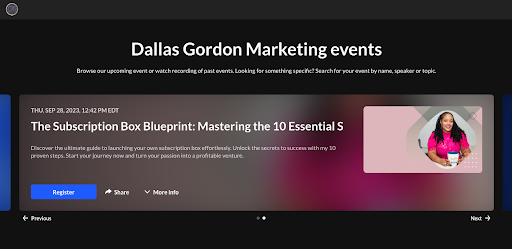 Kaltura is a robust and feature-rich platform that empowers you to elevate your virtual events. Its versatility, flexible pricing, and user-friendly interface make it an attractive choice for businesses and individuals looking to host webinars, virtual events, and more.
If you're in the market for a comprehensive virtual event solution, consider Kaltura. Its AI-powered features, interactive capabilities, and detailed analytics make it a standout choice in the crowded field of virtual event platforms. Give Kaltura's free trial a try and experience the future of virtual events for yourself. Your audience will thank you for it. Get started with Kaltura here: http://bit.ly/gordon-dallas. Save 30% using code: GORDON30
If you'd like to know more about Kaltura, I invite you to watch my full video here:
---